Advertise your business on the the Costa de Almería forum
Easily advertise your business in minutes to thousands of our visitors!
Why advertise your business with us?
Whether you are a small, medium or large business, you can benefit from the following by advertising your business with us:
Your business will appear as an advert banner on every single page in the right hand column on desktop and near the bottom on mobile.
We show sponsored links from our advertisers frequently across our forums.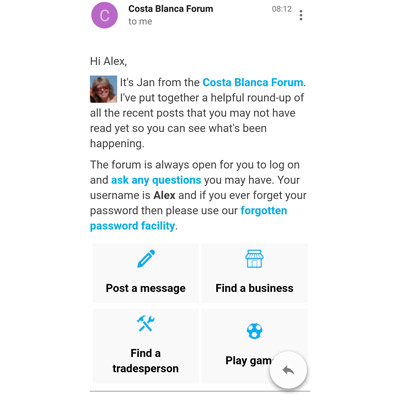 We send thousands of emails per month to our members across all of our websites, and your business would be frequently featured on the emails relevant to your area.
Get your business seen
Join the businesses signed up already. Here is a selection of businesses who have signed up so far:
What does it cost?
Your advert banner on every single page of this website in the right hand column!

All banners displayed in a random order, meaning everyone gets a fair chance of appearing at the top

Your business promoted frequently as a sponsored link on the forums.

Your business promoted frequently in our email newsletters to members.

Full access to edit and update your advert banner at any time.

No minimum period - cancel at any time.

Pay using a choice of secure card, wallet or PayPal payments.

Just £19.99 a month